---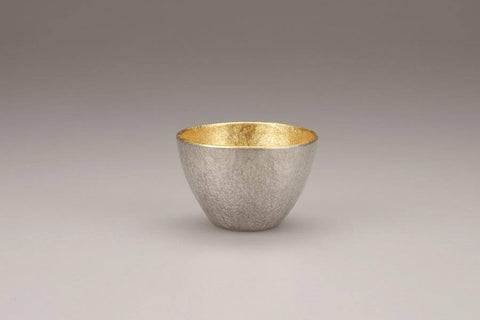 NOSAKU - Tin 100%, Sake Cup [gold] NT-007
---
Name Sake Cup [gold]
Size H43 φ62
Box size H50 W77 D77
Weight(with box) 109g (143g)
Material Tin (100%), gold leaf

Introduction Known as the most expensive metal after gold and silver, tin is very malleable and flexible. Though having nearly the whiteness of silver, it does not rust easily nor will air tarnish it readily. It is significantly antibacterial, and also known as a material with low allergic reactivity and high heat conductivity. Tin ware cooled in a refrigerator for 2-3 minutes will keep the dish fresh and cold.
NOUSAKU uses pure tin. It is common to add other metallic materials to provide durability and facilitate cutting work, but NOUSAKU uses tin without such additives. Accumulated experience of skilled craftsmen enables us to produce these unique pieces. The piece is also special for its finishing. The inner side of this item is gilded; a collaborative manufacturing between craftsmen of gold leaf at Kanazawa, Ishikawa prefecture. It can be used as sake cup, seasoning cup and various table top accent, accessory container, etc.

[Maintenance / Directions for use]
-Use a cloth (sponge), clean with dishwashing liquid (neutral in pH) after use.
-Do not scratch with hard brushes.
-Polish with common metal polishers, tooth paste, or baking soda to restore the shine.
-Do not use over a flame, as they have low melting points.
-Products are not to be used in microwave ovens or inside freezers.
-Do not presoak.
---
More from this collection